WELCOME TO OUR OTHER MIDI'S PAGE!
MAKE A JOYFUL NOISE!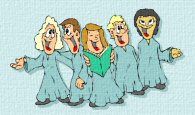 Other MIDI Page2 Selections
\o/\o/ Rockin' In Jesus' Arms Singing Alleluia!\o/ \o/

GODS ANGELS WATCHING OVER US!
SINGING ALLELUIA! ALLELUIA! AL-LE-LU-IA! ~FOREVER!~
UNTIL WE REACH THE PLACE HE HAS PREPARED FOR US!!!
We did not create these sounds. We collected them from other sources
that said that they were public domain. If you know of anything that is not,
please let us know and we will take it off.
Thank You and God Bless You Grandly!